On June 12th, 2023 local time, Sanyou Biopharmaceuticals Co., Ltd. officially announced the launch of "Sanyou Super Trillion Common Light Chain Antibody Discovery Platform" (the "platform").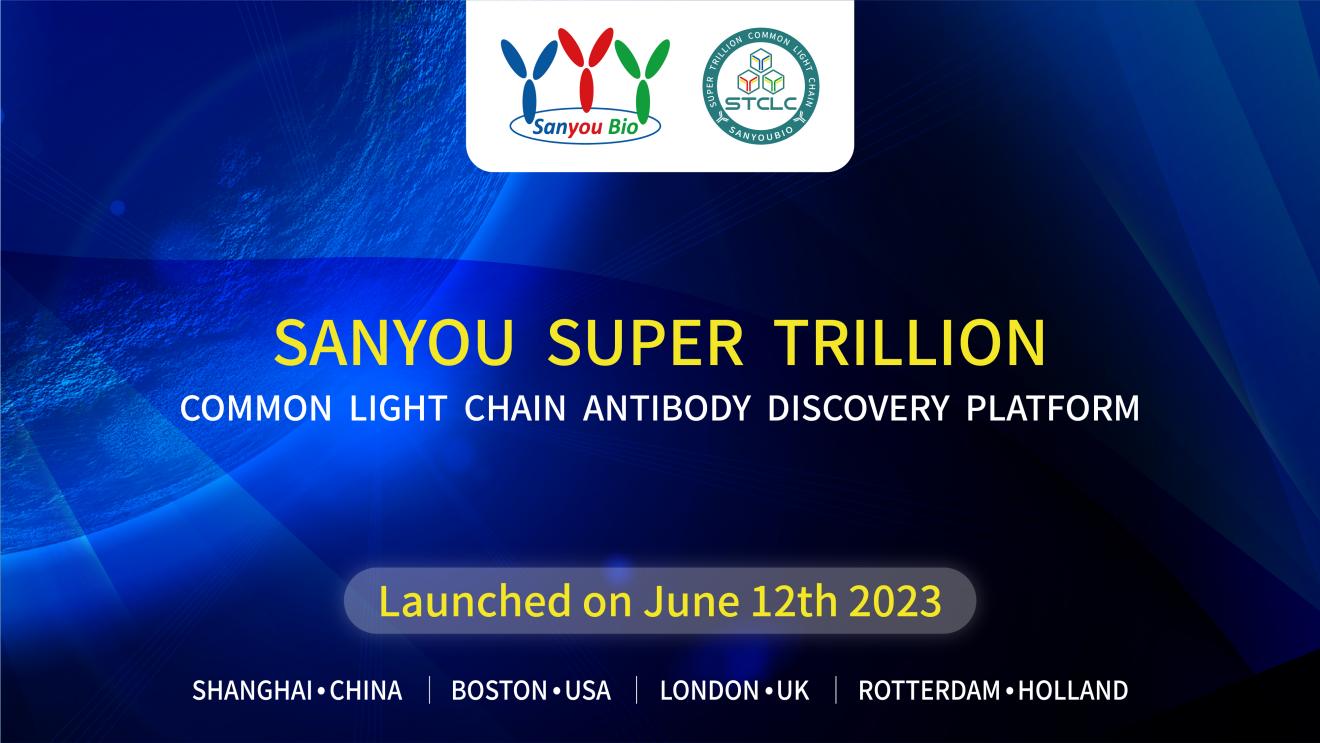 As one of the nine trillion antibody discovery platforms of Sanyou, the platform features a library capacity of up to 1.12E+12 CFU. For a single target, the platform can generate hundreds of lead antibodies with diverse sequences, which can be further designed into bispecific antibodies with good drug developability, providing a feasible solution for obtaining bispecific antibodies with structures similar to the natural monoclonal antibodies.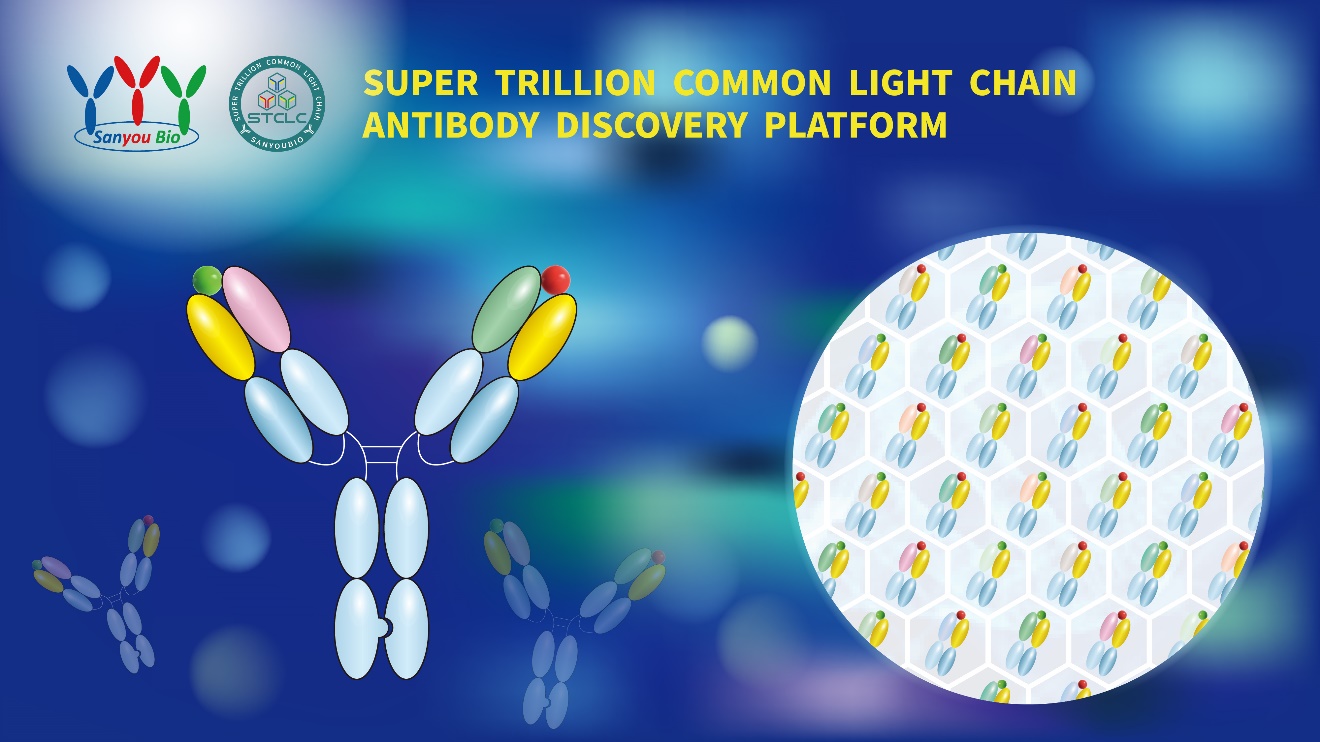 Bispecific antibodies are at the forefront of antibody R&D field. Compared with monoclonal antibodies, bispecific antibodies possess one additional antigen binding arm, which brings stronger specificity and better targeting. As of March of 2023, 436 bispecific antibody drug candidates have advanced to clinical trials worldwide, and 10 bispecific antibody drugs had been approved for marketing, with sales of more than 5 billion USD.
The antibody library of the platform was established in a rigorous way. To be specific, 2 common light chains were selected through alignment and screening of 1800+ light chain sequences, validation of 25 proof-of-concept libraries, and antibody characterization and analysis of 12 light chains. The bispecific antibodies generated by this platform exhibit good drug developability, and the heavy chains possess natural antibody properties and high diversity. The platform employs the knob-into-hole technology to ensure the correct pairing in the process of bispecific antibody formation and eliminate the mismatch. These common light chain antibodies are suitable for multiple application scenarios, such as bispecific antibody development, dual-targeting or bi-paratopic ADC, and therapeutic or detection antibodies.
Following the customer-oriented concept, the platform provides two types of services, i.e., library screening and library integration, making it not only suitable for the R&D service of individual projects, but also for customers' integration into their own platforms with the exclusively customized common light chain libraries.
It is believed that the launch of the platform will provide customers with great assistance in overcoming the difficulties in the R&D of bispecific antibody drugs, reducing the challenges in the development of bispecific antibody drugs, and greatly accelerating the R&D of bispecific antibodies.
About Sanyou Bio
Sanyou Biopharmaceuticals Co., Ltd. is a world-leading high-tech biotechnology enterprise focusing on R&D and services of innovative biological drugs. Sanyou is committed to bridge drug R&D and all-life-cycle manufacture supply chain, and has built the 4C business patterns that integrate "differentiated CRO, integrated CDO, innovative CPO and characteristic CRS", to accomplish the mission "to make it easy to discover innovative biological drugs anywhere".
Sanyou has established an integrated innovative biological drug R&D laboratory of twenty thousand square meters with advanced facilities, and has built three industry-leading innovative technology platforms featured by "super-trillion, integration, and intelligence" , which are comprised of more than 50 sub-platforms with the core innovative super-trillion phage display platform, and supported by platforms of material preparation, antibody discovery, molecule optimization, in vitro and in vivo efficacy, production cell line construction, upstream and downstream process development, preclinical R&D, industrialization development, etc.
Sanyou's proprietary platform and technology are in continuous optimisation,they launch from time to time upgrades and new version of services and technologies based on principles of innovation, outstanding and reliability. The company has established friendly business collaboration with more than 1000 pharmaceutical companies, drug R&D institutions and diagnostics companies worldwide.
Company:Sanyou Biopharmaceuticals (Shanghai) Co., Ltd.
Contact Person:Guohong He
Email:guohong.he@sanyoubio.com
Website:www.sanyoubio.com
Telephone:+86-400-821-0776
City:3/F, Building 6, No. 188 Xinjunhuan Road, Minhang District, Shanghai, China ,201114
Disclaimer: This article is reproduced from other media. The purpose of reprinting is to convey more information. It does not mean that this website agrees with its views and is responsible for its authenticity, and does not bear any legal responsibility. All resources on this site are collected on the Internet. The purpose of sharing is for everyone's learning and reference only. If there is copyright or intellectual property infringement, please leave us a message.