What is VenusDAO?
Venus DAO is a collaborative network of decentralized organizations composed of senior foundations, developers, content creators, community consensus members and blockchain enthusiasts in the blockchain industry.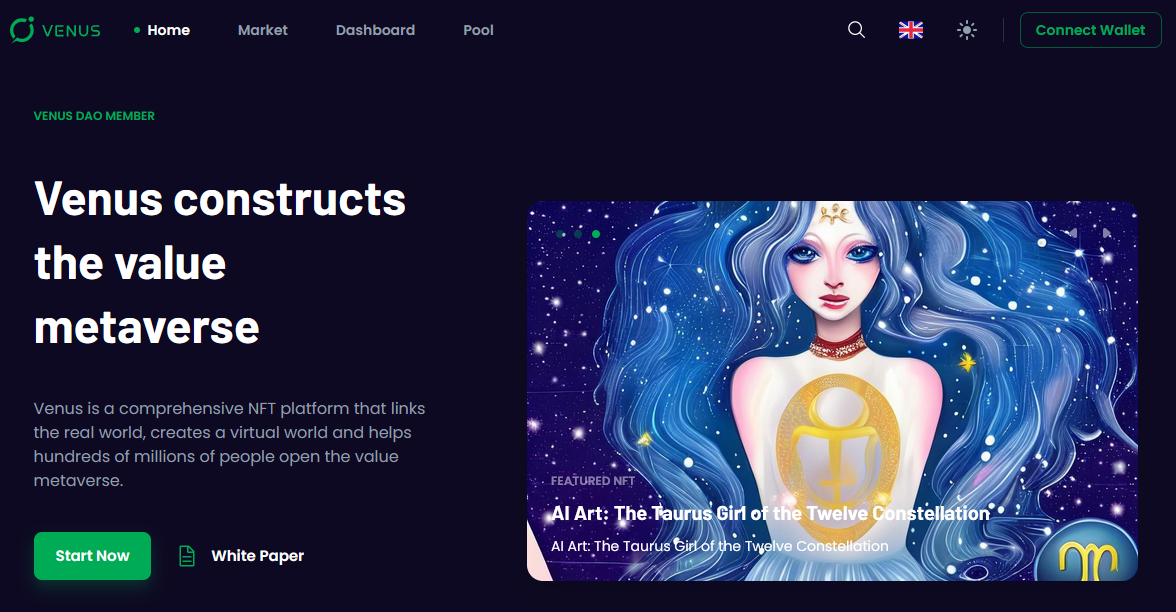 The members of Venus DAO have rich experience in the Internet and blockchain industry. They have participated in code contribution development for Bitcoin, Ethereum, Polkadot, Polygon and other public chains, and made outstanding contributions to community consensus and ecological construction. They are Internet and blockchain industries. promoters and leaders.
Venus DAO is a digitally native, community-led organization powered by blockchain technology, where members vote on the organization's true direction and vision. And the Venus DAO utility can support the realization of Metaverse's ambitious goal of democratizing the creator economy by creating more direct and transparent connections between communities and specific projects.
What is the VenusDAO NFT platform?
The Venus NFT platform is the first ecological application platform of Venus DAO, and each DAO member is the master of the Venus NFT platform. The Venus NFT platform is a one-stop comprehensive service platform integrating NFT creation, batch creation, transaction, auction, collection, blind box, NFT finance and other functions.
Since NFT is a unique digital asset, common functions in games such as game props, game assets, game skins, and user identities can all be realized in the form of NFT.
In this way, these functions can have real value. While having market liquidity and market value, they can also provide complete digital property rights, and cooperate with the "Play To Earn" game mechanism to create a virtuous cycle of game ecology.
What is the relationship between VenusDAO and VenusNFT platform?
The VenusNFT platform is an NFT platform that is fully owned by VenusDAO members. DAO members plan and decide the future development direction of the platform to solve the pain points of centralized coordination. The NFT platform is completely owned by the DAO organization.
Venus DAO will issue a unique NFT, which is not only a collectible image, but also a transmission of Venus DAO's worldview, brand narrative and visual identity. Like Marvel characters or Transformers toys, they appear on branded merchandise, at physical and virtual events, and are expected to spawn video game franchises. From the perspective of NFT holders, owning an NFT not only provides an exclusive experience, it also creates an expectation that the holder will have a say in the direction and management of the DAO.
Venus DAO replaces the traditional corporate decision-making hierarchy with a community structure that de-centralizes leadership, and uses ecological applications such as NFT platforms to realize the vision of market globalization, that is, the value of data is owned by users, and ultimately builds a rich and colorful metaverse of value.
Features and Benefits of the VenusDAO NFT Platform
Six functions
Single casting: based on the BEP 721 protocol, casting unique NFT
Batch casting: One-chain batch casting of NFT based on the BEP 1155 protocol
Sales market: One-chain entrustment, withdraw at any time when the transaction is not completed
Auction market: English-style auction, limited-time rush, the highest bidder wins
Blind box opening: circular business ecology, high returns
Indexation: Fragmentation of NFT to enhance liquidity
Three advantages
Easy to use: Venus products are easy to use, and users can play with NFT without programming skills, allowing creators to easily realize self-worth through NFT.
Complete functions: The Venus decentralized NFT platform can realize NFT casting, trading, auction, collection and financialization.
Low cost: Compared with other NFT platforms, the service fee of Venus platform is more favorable, which can increase income, reduce costs, and be more humane.
VUS Token Mechanism
Release and function of VUS
In order to promote the construction of the Venus DAO ecosystem, the Venus Foundation issued the token VUS in the form of DAO governance. As the medium of exchange for Venus DAO, VUS provides users with various ecological rights and interests of Venus DAO. At the same time, VUS is widely used in ecological transactions, circulation, and confirmation of rights.
Governance Token
VUS is the governance token of Venus DAO. Hold VUS to participate in Venus DAO voting governance, decide the future development of the organization, and share future value.
Platform Token
VUS is the Token of the Venus DAO ecological application platform. Holders of VUS can deduct service fees and participate in the dividends of the platform.
Circulation Token
In all Venus ecosystems, VUS is used as a circulation token and pricing token to realize all exchange functions.
Disclaimer: This article is reproduced from other media. The purpose of reprinting is to convey more information. It does not mean that this website agrees with its views and is responsible for its authenticity, and does not bear any legal responsibility. All resources on this site are collected on the Internet. The purpose of sharing is for everyone's learning and reference only. If there is copyright or intellectual property infringement, please leave us a message.